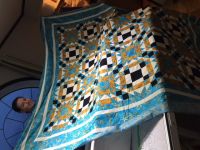 Alice Twa
Hello!
My name is Alice Twa and I am from Yellowknife, Northwest Territories. In August 2018, I am going on an 11-month exchange to Argentina with AFS.
I have dreamed about going on an exchange ever since my family hosted our first exchange student, a girl from Switzerland 7 years ago. I thought it was crazy that she the opportunity to come to Canada and live with us for a full year. My desire to go on an exchange grew and grew after every year that we hosted. I am so excited to finally be able to go on this adventure of a lifetime and experience a different culture and city unlike my own northern town.
Every donation you make will help me to achieve this goal. Please leave your name and address so that I can send you a thank-you postcard from Argentina in the fall. I'd also like to send one random lucky donator this quilt that I made with my mom as a thank-you.
Thank you,
Alice
| | |
| --- | --- |
| Donneurs actuels | Montant |
| Alex Lothian | 20,00 $ |
| Anita Lemmetty | 50,00 $ |
| April Bell | 40,00 $ |
| Ben Russo | 100,00 $ |
| Bente Jensen | 100,00 $ |
| Christine Wenman | 20,00 $ |
| Claire Marchildon | 50,00 $ |
| Danica Patterson | 100,00 $ |
| Darren Jacquard | 50,00 $ |
| David MacMillan | 50,00 $ |
| Deborah Leishman | 100,00 $ |
| Denise Buchart | 50,00 $ |
| Donna Longpre | 50,00 $ |
| Donna MacDonald | 25,00 $ |
| Dunja Al-Nuaimi | 80,00 $ |
| Gerard Landry | 50,00 $ |
| Gerda Hazenberg | 100,00 $ |
| Jaysen Knight | 20,00 $ |
| Jennifer Broadbridge | 20,00 $ |
| Joe Iles | 50,00 $ |
| Judy Mah | 50,00 $ |
| Krista Hanson | 20,00 $ |
| Lea O'Keefe | 20,00 $ |
| Lori Lang | 30,00 $ |
| Mike Kenny | 50,00 $ |
| Miriam Gordon | 60,00 $ |
| Miriam Gordon | 100,00 $ |
| Nellie Quinn | 20,00 $ |
| Patricia Loeppky | 50,00 $ |
| Paula and Trevor DeLisle | 100,00 $ |
| Randy Pointkoski | 50,00 $ |
| Robert Burns | 100,00 $ |
| Seana Stewart | 20,00 $ |
| Shari Olsen | 20,00 $ |
| Tara Naugler | 40,00 $ |
| Theena Mercado | 50,00 $ |
| Tracy Bock | 50,00 $ |
| Les dons anonymes | 3 545,00 $ |
| TOTAL : | 5 500,00 $ |
Faites un don