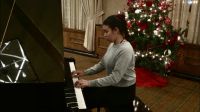 Angelique Mah
Bonjour,
Je m'appelle Angelique et je termine mon secondaire cette année. Pour ma prochaine année scolaire, 2019-2020, j'irai en Autriche! Je serai dans une famille d'accueil où je vivrai la vie d'une Autrichienne de 16 ans. Pour ceux qui se posent la question, oui j'irai dans une école autrichienne… en allemand. Je ne sais pas pour vous, mais quand on me dit l'Autriche, je pense, entre autres à Mozart, Brahms, Haydn, Strauss… en gros, je pense à des compositeurs de musique classique! Cela dit, depuis mon plus jeune âge, j'ai toujours dit que plus grande, j'apprendrai l'allemand… et c'est exactement ce que je vais faire.
Étant une personne très spontanée, j'ai décidé de participer à un programme d'échange étudiant d'une durée de 10 mois. AFS Canada, l'organisme qui m'aidera à réaliser ce projet, est basé sur le bénévolat. AFS, demande donc à ses participants d'amasser une somme de 5'500$ en collecte de fonds et c'est ce que je fais :).
***Les dons de 20$ ou plus, sont déductibles d'impôt ;)***
Merci de m'aider à poursuivre ce rêve!
__________________ENGLISH__________________
Greetings everyone,

My name is Angelique and this year I'll be graduating from high school. For the school year 2019-2020, I will be studying abroad in Austria! I will be hosted by a host family where I'll be living the life of a 16 years old Austrian. For those who are wondering, yes, I will be attending a local school in Austria and in German. I don't know for you guys when Austria comes to mind. For me, it's Mozart, Brahms, Haydn, Strauss... well, classical music composers! When I was younger, I dreamt of learning German one day when I grow up… and it's exactly what I'm going to do and there is no better way than learning it in Austria.

Since I'm a very active and spontaneous person, I decided to participate in an intercultural student exchange program for 10 months. AFS Canada will be helping me with this wonderful adventure, AFS Canada is a non-profit organization made up entirely by volunteers and public donations. Therefore, I am to raise a sum of 5'500$ for this wonderous adventure and your generous donation will be greatly appreciated.
***Donations of 20$ or more, are tax deductible ;)***
Thank you for helping me pursuing this dream!
| | |
| --- | --- |
| Donneurs actuels | Montant |
| Annabel Sadan | 50,00 $ |
| Anne Roudaut | 20,00 $ |
| Anne Drolet | 50,00 $ |
| Anne-Sophie Vezeau | 30,00 $ |
| Bernard Roy | 50,00 $ |
| Brian Maher | 40,00 $ |
| Carole Julien | 25,00 $ |
| Carole Dionne | 20,00 $ |
| Chantal Bernier | 20,00 $ |
| cynthia synnott | 40,00 $ |
| Daniel Lefebvre | 100,00 $ |
| Daniel Barbeau | 50,00 $ |
| Daniel Lefebvre | 100,00 $ |
| Danielle Tessier | 25,00 $ |
| Danielle LEGRAIN | 50,00 $ |
| Denis Duguay | 20,00 $ |
| Eddy Hong | 200,00 $ |
| Élaine Paquette | 25,00 $ |
| Elyse Arcand | 25,00 $ |
| Emilie Thuillier | 50,00 $ |
| France Ouellet | 50,00 $ |
| Geneviève Goulet | 20,00 $ |
| gilles synnott | 25,00 $ |
| Gilles Rochette | 20,00 $ |
| Guillaume D'Amours | 25,00 $ |
| Guy Dumais | 20,00 $ |
| Helena Pita | 25,00 $ |
| Hong-Nhat Nguyen | 50,00 $ |
| Isabelle Sweet | 40,00 $ |
| Isabelle Gratton | 20,00 $ |
| Isabelle Synnott | 20,00 $ |
| JAMES BELLMAN | 20,00 $ |
| Jean-Sébastien Cyr | 25,00 $ |
| Jean-Yves Caron | 100,00 $ |
| Jeannine Bolanos | 20,00 $ |
| Josée Synnott | 25,00 $ |
| Josée Laneuville | 25,00 $ |
| Josianne Bertrand | 50,00 $ |
| JOSIP PANDZA | 50,00 $ |
| Kai Nung Mah | 1 425,00 $ |
| KAI SHUEN (MIKE) MAH | 100,00 $ |
| Kai Wood Mah | 500,00 $ |
| Khann Chau | 35,00 $ |
| laure Barnouin | 25,00 $ |
| Lilit Ghahramanyan | 20,00 $ |
| Lise Duchesne et Lyne Legros Legros | 50,00 $ |
| Louis Grefford | 40,00 $ |
| Louise Morin | 25,00 $ |
| Marcelle Proulx | 10,00 $ |
| Marjorie Benodin | 20,00 $ |
| Maryse Laforest | 50,00 $ |
| Michael Finke | 100,00 $ |
| Nathalie Beaudet | 50,00 $ |
| Nathalie Boyer | 25,00 $ |
| Pierre Synnott | 25,00 $ |
| Sandra Synnott | 20,00 $ |
| Shalinee Vengatappa | 30,00 $ |
| sonia gounar | 30,00 $ |
| Sophie Galluccio | 50,00 $ |
| Sylvain Jasmin | 20,00 $ |
| TONY LIANE | 100,00 $ |
| Ubald Chamberlain | 50,00 $ |
| Vanessa Synnott | 20,00 $ |
| Viola Teolis | 50,00 $ |
| Les dons anonymes | 1 040,00 $ |
| TOTAL : | 5 530,00 $ |
Faites un don