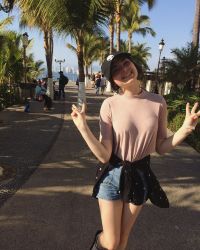 Claire Tillapaugh
Hello!
My name is Claire Tillapaugh, I am 15 years old and I will be participating in the 2018 exchange program to Japan. Yes. Japan (I say that and people think I've lost my mind). It will be for 5 months from March to August.
Of course, flying to Japan from Canada is expensive, as well as the exchange rate and pretty much everything. It is most likely even more so for people who dream big to go but earn a low finance income. Students should have an equal and fair chance at one of the best life changing experiences ever, without having to worry so much on their needs that money supplies.
AFS Interculture donates their donations to not only other charities, but also to their "to be/not to be" participants who are in Financial Need. Plus, they are an international non-profit organization so your minimal deposits will go straight to helping people.
My goal is to raise a minimum of $4500 Canadian. Even a simple $20 donation will go a long way, and you will receive a tax deduction charity receipt that recognizes your contribution. By donating a simple $100 you are practically donating 5 people's worth which will be helpful even more so (I will personally recognize you and bring back personal souvenirs upon your request. Every donation will receive a POSTCARD from the area I am going to, so no excuses for helping)!
By donating you are helping the future from around the world.
Background & Questions
Why Japan? Ever since I discovered travelling on a student exchange, learning a new language and exploring a new culture whilst doing so, I became extremely interested in the idea. All that was left was to choose a location. I had already peaked an interest in Japan due to a travel vlogger as well as the recommended music section from YouTube (which for some reason suggested Japanese music) and begun my own research on the country and it's background, traditions, and it's incredible beauty that it possessed, not only in the landscape but in the people as well.
Are you contributing? Yes! My contribution is as a volunteer, setting up opportunities for people to discover this wonderful way for low income students to see the world outside of the borders. As an example, I set up activity nights for people to have fun and donate as well, leaving their minds filled with the idea of spreading the word and feeling like they've helped strangers and become superheroes (and in a way, they are)! I also donate myself.
Is $4,500 required for you to go? Yes! It is required, but it is also a minimum. In order to go to my location, I need to raise that much. HOWEVER, I would love to raise more money. Everything donated to me is COMPLETELY non-beneficial. I don't receive any of the money donated except for the thumbs up that I can go. This means that I myself and my family are paying for my exchange, and you are paying to help those in Financial Needs as well as to help others with different situations.
Thank you for reading and I hope you will donate for this once-in-a-lifetime experience, not only for me but for all AFS Interculture participants and those in need of charity.
| | |
| --- | --- |
| Donneurs actuels | Montant |
| | 60,00 $ |
| Andrea Vanderhelm | 50,00 $ |
| BELINDA DEKORT | 25,00 $ |
| beth hackett | 50,00 $ |
| Bud's Family Pizza | 50,00 $ |
| Carla Tillapaugh | 50,00 $ |
| Christine Brunton | 20,00 $ |
| Diana Wright | 50,00 $ |
| Hillary O'Leary | 20,00 $ |
| J Tillapaugh | 500,00 $ |
| Kelly Ainsworth | 20,00 $ |
| Kirsten Anderson | 400,00 $ |
| Laura Pageau | 40,00 $ |
| Melanie Larkin | 25,00 $ |
| Patricia Ward Conlon Davies | 100,00 $ |
| Sue LeClair | 20,00 $ |
| Suzanne Jansen-Butler | 300,00 $ |
| Tammy Noszenko | 20,00 $ |
| Tara Haves | 50,00 $ |
| Les dons anonymes | 2 700,00 $ |
| TOTAL : | 4 550,00 $ |
Faites un don