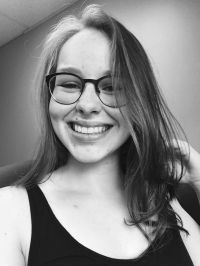 Clara Houle
Bonjour ! Hi !
Je m'appelle Clara Houle et je suis une étudiante du Québec de 16 ans.
En août 2018, j'espère partir au Japon pour une année scolaire (11 mois). Ce voyage me tient énormément à cœur et ce fait plusieurs mois que j'en rêve. Le Japon est un pays d'une culture des plus originales sur la planète et le japonais et une magnifique langue qui rayonne dans sa difficulté. Grâce à ce voyage, j'espère acquérir une plus grande compréhension des autres et de moi-même. De plus, je souhaite devenir journaliste internationale dans le futur. Ce programme serait le premier pas de géant vers ce but !

Afin d'être en mesure d'y participer, je dois amasser un montant de 5500$ en financement. Chaque don, même les plus petits, m'aide à réaliser ce voyage.
Merci infiniment d'avance !

Clara
(Notez qu'un don de 20 dollars ou plus permet un reçu pour remboursement d'impôt)
---------------
My name is Clara Houle and I am a 16-year-old student from Quebec.
In August 2018, I will hopefully leave for Japan for a school year (11 months). This program is dear to my heart and has been on my mind for months. Japan has one of the world's most original culture and the Japanese language is wonderful and shines through its difficulty. Thanks to this trip, I wish to acquire a better understanding of others and myself. I also hope to become an international journalist in the future. This program would be the first giant step towards that goal!

To participate, I need to raise a total of 5500$ in fundraising. Each donation, even the smallest, helps this dream come true.
Infinite thanks in advance!
Clara

(Please note that any donation of $20 or more will allow a tax receipt)
| | |
| --- | --- |
| Donneurs actuels | Montant |
| TOTAL : | 0,00 $ |
Faites un don