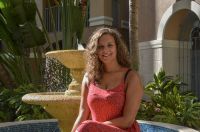 Corinne Brochu
Bonjour,
Je m'appelle Corinne et j'ai 16 ans. Depuis maintenant trois ans, je planifie un voyage d'études au Danemark. En grandissant, mon plus grand rêve était de voyager à travers le monde. Ce voyage a pour but de me faire découvrir cette nouvelle culture. Durant cette année, j'habiterai dans une famille danoise et irai à l'école durant la semaine. Je solicite votre aide pour amasser cette somme d'argent considérable nécessaire à la réalisation de mon projet.
Merci de votre soutien!
Corinne Brochu
Hello,
My name is Corinne and I'm 16 years old. For three years now, I have been planning a study trip to Denmark. Growing up, my biggest dream was to travel around the world. This trip aims to introduce me to this new culture. During the year, I will live in a Danish family and go to school during the week. I solicit your help to raise this considerable amount of money necessary for the realization of my project.
Thank you for your support
Corinne Brochu
| | |
| --- | --- |
| Donneurs actuels | Montant |
| Alex Jolicoeur | 20,00 $ |
| Annie Belanger | 75,00 $ |
| Isabelle Rouleau | 2 400,00 $ |
| Johanne Dubé | 30,00 $ |
| Katia Luca | 20,00 $ |
| Leonore Jean-François | 10,00 $ |
| Marie-France Pouliot | 30,00 $ |
| Mélanie Rouleau | 25,00 $ |
| Nancy Audette | 50,00 $ |
| Nathalie Bernier | 25,00 $ |
| Pascale Audette | 50,00 $ |
| Régis Brochu | 2 000,00 $ |
| TOTAL : | 4 735,00 $ |
Faites un don