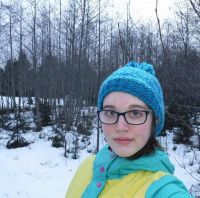 Emily Gunn
Update: My fundraising goal has been reached! Thank you to everyone who has donated- it really means a lot :)
Hi! I'm Emily
I live in Kitimat (Northwest BC), am 16 years old, and will be participating in the 2018/2019 AFS program to Sweden!
This program will span 11 months (from mid-August 2018 to July 2019). I will live in Karlstad (Värmland), Sweden, and take school there at Klara Gymnasium. This will provide the opportunity to really learn the Swedish language and culture.
Why am I studying abroad?
I would say that the reason I was first interested in being an exchange student is an eagerness towards languages. I've been learning Swedish on my own for 2 years now and I really love the language! I am very interested in possibly studying linguistics in the future, and knowing two languages would definitely help.
I have always desired a real opportunity to learn a language. Despite the high levels of English in Nothern Europe, one of my main goals is to learn as much as I can.
Learning another language is definitely not the only reason to go on exchange: my year in Sweden will teach me about life in another place, build independence, create lifelong friendships and connections, and generally be an unforgettable experience. It'll definitely be worth it :)
Why Sweden?
I've been interested in the Nordic countries for several years. I find myself attracted to the unique and open Swedish culture, the northern landscape, the forward thinking egalitarian society, and the fascinating North Germanic language. Sweden even has history dating back to before the Vikings!
All in all, Sweden is an intriguing country that I truly desire to visit and learn from.
AFS Interculture Canada is the program I will study with. It is a voluntary non-profit organization that sends many students abroad every year. AFS programs are geared towards teaching young people about the world beyond their everyday lives.
To go on this program, there is a mandatory fundraising amount of $5,500 . While this amount is scary, I believe it can be accomplished with enough hard work and support. Donations go towards AFS's mission and scholarships for future exchange students who need financial support. Donations of any amount are greatly appreciated! The fundraising deadline (May 15th) is coming up soon, so I could use all the help I can get :)
Donations over $20 are tax deductible, but even $5 would help a lot!
In the upcoming future, I will be doing bake sales, a hot dog sale, a continuing bottle drive, and other fundraising events. I'll make sure to advertise before each event.
Thank you so much for taking the time to read or donate. It means a lot!
Tack ska du ha,
-Emily
| | |
| --- | --- |
| Donneurs actuels | Montant |
| Anneke + Carmelo ciaramidaro | 100,00 $ |
| Bruce & Tina Monforton | 100,00 $ |
| Debbie/Brad Hoffman/Toth | 160,00 $ |
| District of Kitimat | 750,00 $ |
| Eileen Gunn | 50,00 $ |
| Goran Mutavdzic | 200,00 $ |
| Heather McCulley | 50,00 $ |
| Huey Lin Guizzo | 20,00 $ |
| Jason Grant | 20,00 $ |
| Kathy & Terry Gunn | 50,00 $ |
| Kim & Chris Montgomery | 50,00 $ |
| Kitimat District Teachers' Association | 100,00 $ |
| Mary Etta Rypma | 100,00 $ |
| Maryka Rypma | 100,00 $ |
| Natalie Guldin | 20,00 $ |
| Richard Paquet | 100,00 $ |
| Robyn Iannarelli | 50,00 $ |
| Sabina Kay | 500,00 $ |
| Sue & Mike Prause | 75,00 $ |
| Unifor Local 2301 | 200,00 $ |
| Les dons anonymes | 1 525,00 $ |
| TOTAL : | 4 320,00 $ |
Faites un don