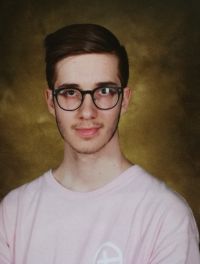 Nicolas Caron
Bonjour,
Je m'appelle Nicolas et j'ai 17 ans. À partir de juillet 2019, je désire aller vivre un an en Finlande afin d'apprendre les langues (finnois et suédois) et connaître l'histoire de ce beau pays. J'aime essayer de nouvelles choses (surtout en matière de nourriture). Je crois que ce projet pourrait être un accomplissement personnel qui va m'apporter du positif dans mon avenir et une certaine autonomie. Pendant cette année, je vais être dans une famille qui va m'accueillir comme si je serais leur propre enfant et qui va m'aider à m'intégrer à la culture par leur présence et leur soutien. Pour cette expérience, j'ai besoin de faire une collecte de fonds de 5500$ et pour cela, j'ai vraiment besoin de votre aide. Merci de m'aider à accomplir un rêve.


Tout don de 20$ et plus vous donnera un reçu d'impôt pour don de charité.
Hello,
My name is Nicolas and I am 17 years old. In July 2019, I want to live a year in Finland to learn languages (Finnish and Swedish) and to know the history about this beautiful country. I like to try new things (especially food). I believe this project will be a personal accomplishment that will bring me positive in my future and a great autonomy. During this year, I will be in a family that will host me as if I were be their own child and that will help me to integrate into the culture by their presence and their support. For this experience, I need to collect 5500$ and for this reason I really need your help. Thank you for helping me make a dream come true.
Any donation of 20$ or more will give you a charitable tax receipt.
| | |
| --- | --- |
| Donneurs actuels | Montant |
| TOTAL : | 0,00 $ |
Faites un don