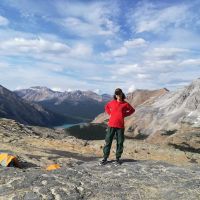 Pascale Marchand
Je m'appelle Pascale Marchand, j'ai 16 ans et j'habite à Gatineau, au Québec. Je fais parti du programme des Cadet royaux de l'Armée canadienne. Grâce à ce programme, j'ai pu voyager dans le Canada pendant l'été et développer une soif de découvrir l'inconnu. J'ai développer une passion pour l'étranger. J'aime plus que tout ne pas être dans mon environnement naturel et ma zone de confort. Je suis élève à l'école secondaire du Versant. Je suis bilingue Anglais/Français.
Mon amie Viviana est venue de l'Italie jusqu'ici pendant un an (année scolaire 2017-2018) en échange étudiant. Ça m'a intéréssée lorsqu'elle m'a parlé du programme AFS. Je voudrais découvrir d'autres parties du mon francophone sur le globe. J'ai toujours aimé la Belgique et la France sans jamais avoir eu la chance d'y aller ! Mon objectif est d'obtenir 5500$ pour ce voyage.
Merci de votre collaboration!
/ENGLISH/
My name is Pascale Marchand, I am 16 years old and I live in Gatineau, Québec. I am part of the royal canadian Army Cadets program. With this program, I have been able to travel across Canada during the summer and develop a passion to discover the unknown. I developped a passion for the foreigner. I like to be out of my natural environment and comfort zone more than anything. I study at du Versant highschool. I am biligual English/French.
My friend Viviana came from Italie and stayed here in Gatineau for a year (Class of 2017-2018) as a student in my school. It really interested me when she talk to me about the AFS program. I would like to discover other french countries around the globe. I always loved Belgium and France without having the chance to go there ! My goal is to raise 5500$ for this trip.
Thanks for your support !
| | |
| --- | --- |
| Donneurs actuels | Montant |
| TOTAL : | 0,00 $ |
Faites un don