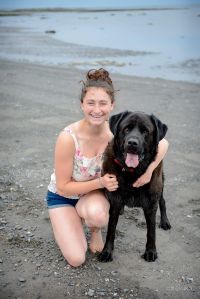 Rose Gagnon-Yelle
Bonjour!
Je m'appelle Rose et j'ai 17 ans. Je suis native de Montréal, mais j'ai grandi à Matane, aux portes de la Gaspésie. Mes intérêts sont très variés, allant de la gymnastique à l'observation de la nature, en passant par la randonnée pédestre et la plongée sous-marine. Je suis également passionnée de voyages et des différentes cultures du monde depuis aussi loin que je me souvienne.
À l'hiver 2020, je souhaite réaliser mon rêve en faisant une immersion culturelle de six mois au Costa Rica. Faire ce voyage me permettra de parfaire mon espagnol, d'expérimenter un quotidien totalement différent du mien et de remettre en perspective mes valeurs et mes ambitions pour le futur.
Je n'ai aucun doute que cette aventure unique fera partie mon bagage personnel pour plusieurs années après mon retour au Canada. Cette expérience ne peut que faire de moi une meilleure citoyenne du monde, plus ouverte et épanouie.
Je suis prête à travailler fort pour y arriver! Le moindre petit don démontrera votre appui pour mon projet et sera grandement apprécié. Merci pour votre soutien!
Rose
PS: Les dons de 20$ et plus sont admissibles à un reçu d'impôt.
------------------------------------------------------------------------
Hello!
My name is Rose and I am 17 years old. I was born in Montreal, but I grew up in Matane. My interests are very diversified: For example, I like gymnastics, nature observation, hiking and scuba diving. I am also passionate about travelling and discovering new cultures since I was a little girl.
At winter 2020, I wish to realize my dream to go for six months in a cultural immersion in Costa Rica. This trip will allow me to learn spanish, to experiment a totally different lifestyle and to clarify my own values and ambitions for the future.
Without a doubt, this unique adventure will be a part of me for many yars after my return in Canada. This experience will make me become a citizen of the world, more open minded and fulfilled.
I am ready to work hard to achieve my goal! Every little donation will show support for my project and will be greatly appreciated. Thank you very much!
Rose
PS: Donations of 20$ and more are eligible to a tax receipt.
| | |
| --- | --- |
| Donneurs actuels | Montant |
| Alex Plamondon | 25,00 $ |
| Caroline Vukovic | 20,00 $ |
| Catherine Fortin | 10,00 $ |
| Catherine Forbes | 20,00 $ |
| Denise Gagnon | 100,00 $ |
| Isabelle Yelle | 50,00 $ |
| Jayne Dostie | 10,00 $ |
| Lucie Hartfield | 30,00 $ |
| Marie-Josée Lapointe | 20,00 $ |
| Michel Yelle | 100,00 $ |
| TOTAL : | 385,00 $ |
Faites un don