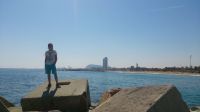 Kaleb Huneau
Hi, my name is Kaleb Huneau and I hope to participate in a three-month program that allows me to meet new people, work on my language skills, experience a new culture and see the world. Fortunately, I am able to cover my own expenses. However, this is not the case for everyone. There are scholarships available for participants to give everyone no matter their financial situation a chance to participate but the money needs to come from somewhere. Fundraising ensures that everyone has equal opportunity to take part in an extraordinary adventure. For this reason, participants are required to fundraise a set amount of money.
Just for fun lets calculate how much it costs to fundraise a full scholarship to a trimester program. If the cost of a program is $3265 and $3500 must be fundraised we can estimate that the fundraising can provide a trip for the recipient of the scholarship. Assuming a full scholarship for a three-month program (92 days) equates to $3265, then $3265/92 days= $35.49per day. Fundraising would be complete if half the population of Thunder Bay donated a nickel or if 327 people donated $10.
*AFS Interculture Canada is a recognized charity organization and issues receipts for tax purposes for donations of $20.00 and more.
Donations are greatly appreciated :)
| | |
| --- | --- |
| Current Donors | Amount |
| TOTAL: | $0.00 |
Make a Donation